: TPS PhreakNIC 9 - 2005 :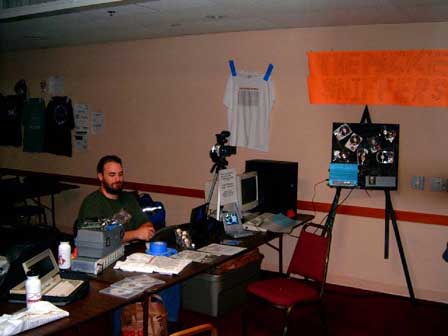 Photo courtesy Irongeek

I was able to make it out to PhreakNIC 9 this year, however Zach couldn't. It was a great time, I got to hang out with a bunch of the BinRev crew and other folks. I didn't get much useable footage for the show, but maby a few minutes worth will end up somewhere.

For once things went well with my preparations, and most notably, NOTHING BROKE this time! I got t-shirts finished ahead of time and my DVD burner and Adobe Encore both co-operated to allow me to finish the DVD's a day early. My AS/400 powered up again and I was able to get my second twin-ax terminal working for the first time since I've owned the thing.

I sold t-shirts, stickers, and raffle tickets at our table (DVD's free with a t-shirt purchase). Raffle items where: a Toshiba T-1000 8088 laptop and the Token Ring Fun Pack which consisted of: an 8 port MAU, about 9 different cards, cables, and an IBM Token Ring test kit. The AS/400 was just for people to hack on and have fun, although I was offering a free t-shirt and DVD to anyone that could "hack" it ;). A total of 4 people tried it out, and I gave 2 DVD's out to the guys that changed the default password and user profile.
---
dosman's writeup
PhreakNIC 9 Website
Pictures from other folks:
Irongeek's
Droops
Jason Scott